MiAssurance is Matrix Integration's premier managed service offering. MiAssurance allows you to plan, implement, change, and manage the technology that runs your business with a lot less time, money, and resources than is normally required. MiAssurance will give you the platinum package of IT service, an experience that grows and aligns the IT needs for your business.
With MiAssurance, you get systems monitoring, managed backups, hardware procurement, and many other custom services that are well-suited to fit your IT needs. One of the key components of MiAssurance is dedicated one on one business strategy and future planning for predictable long-term growth.
Who Needs MiAssurance
Whether you're a small business owner with a decent knowledge of IT or CEO of a larger company who depends greatly on an in-house IT department, we guarantee that MiAssurance is the best choice for IT management. Outsourcing your IT services to Matrix Integration ensures that you will have around-the-clock support, maintenance, and troubleshooting.
What is MiAssurance
We'll provide whole, long-term guidance and budgeted IT service. If anything goes wrong, Matrix will be sure to handle the issue in a quick and efficient manner, ensuring your company will be running as smoothly as possible. Having a team on hand that can handle every issue will make running an organization much easier, both on the day-to-day basis and in the long run. Normally, when you run into an IT issue that can't be solved with in-company help, you'll need to hire a team, much like Matrix, who will come in and fix the one issue. With MiAssurance, you can rest easy knowing that you won't need to worry about which issues will be solvable by you or hired help, because Matrix will already be monitoring and troubleshooting issues for you.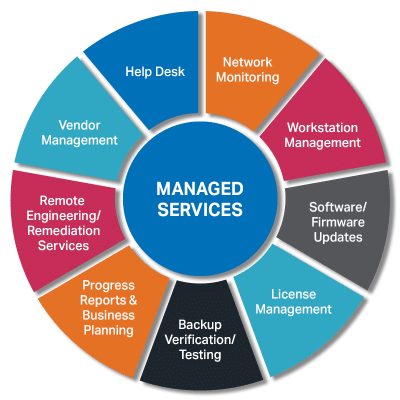 Why MiAssurance
A MiAssurance service agreement will come with a host of benefits, including a consultative business strategy with a predictable long-term roadmap, direct access to our Matrix Technical Assistant Center (MTAC) engineers, comprehensive client infrastructure documentation, and more.
It's not just businesses that can benefit from MiAssurance, either. Really, any organization or establishment, of any size, that requires IT services will find that MiAssurance is the ideal solution for managing IT. If you don't have helpdesk and monitoring, are of a limited skill set, or have accounts that are nearing ready to hire IT Admin, then reaching out to Matrix Integration will certainly be the right move to help you be more productive and stress-free, no matter what environment you are in.
Start Your Premier IT Experience Today!
MiAssurance gives you the results you need to run your business with a true peace of mind. Be assured that, with Matrix, you're going to be taken care of by professionals that will work around the clock to make sure you can go to work with confidence that any and every IT problem will be ironed out and taken care of, allowing for a more stress-free work experience every day. With Matrix's MiAssurance, you will be working with a trusted partner that has your best interest in mind, one that will make sure IT solutions are aligned with your business outcomes, and will provide you with a predictable, streamlined budget. Don't hesitate to reach out to us if you're in need of a fully-encompassed managed service solution.